Bio-logging techniques to explore the intersection of behaviour, physiology and ecology

2nd International Bio-logging Science Symposium
Programme Contents
1. Meeting Schedule
2. Map of the Conference Site
3. Instructions for Presenters
Sunday 12 June: 14.00 - 21.00 Check-in to pick up conference materials (at New Hall).
Monday 13 - Thursday 16 June: Conference (see program below)
Tuesday 14 June - Evening Workshop: Argos - Understanding Error
Wednesday 15 June - Evening Workshop: Search for consensus: best-practice (minimizing impact) in bio-logging science

Webpage showing details of full schedule for talks
Webpage showing details of full schedule for posters
Copy of Abstract Book (Pdf file)

Monday

Tuesday

Wednesday

Thursday

13 June

14 June

15 June

16 June

TIMES
0845
Introduction
Plenary 2
Plenary 3
Plenary 4
0905
Plenary 1
0920-0940
Oral session
Oral session
Oral session
0940-1000
Oral session
1000-1020
1020-1050
BREAK
1100-1120
Oral session
Oral session
Oral session
Oral session
1120-1140
1140-1200
1200-1220
1230-1315
LUNCH
1420-1440
Oral session
Oral session
Oral session
Oral session
1440-1500
1500-1520
1520-1550
BREAK
1550-1610
Oral session
Oral session
Oral session
Plenary 5
1610-1630
1630-1650
POSTER SESSION
POSTER SESSION
Discussion
1650-1710
1710-1730
Closing remarks
1730-1800
1830-1915
DINNER
DINNER
1900
ICEBREAKER
BANQUET
2000

Evening session:
Argos

Evening session:
Best Practice

2100
CEILIDH
The map below shows the locations of the conference accomodation (at New Hall), the lectures and poster sessions (Chemistry Department) and the banquet and ceilidh (Lower and Upper College Hall).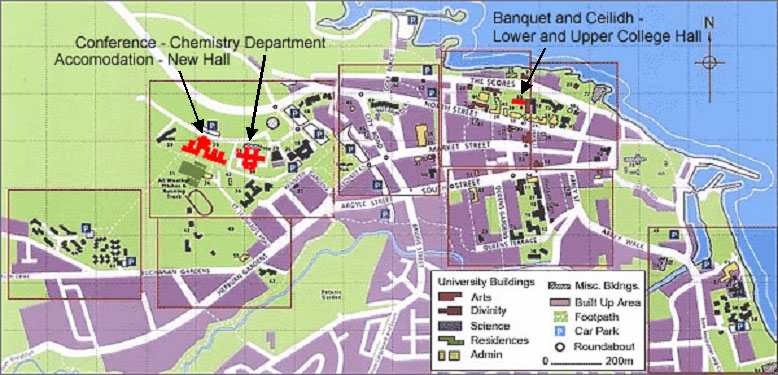 3. Instructions for Presenters
Oral Presentations:
Each speaker will have 15 mins in which to present their work. This will be followed by 5 mins for questions. Speakers exceeding their allotted 15 mins will be hauled from stage.
The preferred format for oral presentations will be IBM compatible Microsoft Powerpoint 2000 or later. There will be no VHS video capabilities. The lecture hall is equipped with an audiovisual system linked to a PC laptop computer, so audio and video clips embedded in a Powerpoint presentation should play without problems. Please note: files containing video or audio clips have to be located in the same folder as the Powerpoint presentation itself! Please bring your presentation and associated files in a self-contained folder on a CD (named as the first author of the talk). Our abilities to cater for special requirements will be limited, but if you have any such requests, please contact us as soon as possible so that we can check for possibilities.

Posters Presentations:
Presenters will have strictly 0.9m width x 1.8m length of poster board available for poster displays.
Posters can be assembled on Sunday evening or Monday morning and will be on display for the duration of the conference. Dedicated poster sessions will be held on Tuesday and Wednesday from 1630 - 1800.