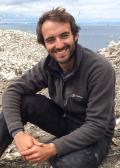 Dr James Grecian

Research Fellow
Research Overview:
James is a Research Fellow at the University of St Andrews' Sea Mammal Research Unit. His research focuses on understanding how seals and other top marine predators interact with their environment, particularly the effect that human impacts such as climate change are having on foraging behaviour and migration. James uses a combination of tools including bio-logging, stable isotope analysis and quantitative modelling to answer these questions.
Recent publications
1  (of 1 published available) for wjg5 with keyword
Radio-triangualtion
clear keyword filter
. (source: University of St Andrews PURE)
Please click title of any item for full details.
2017 
(1/4)
African Journal of Wildlife Research

vol.47 pp.47-58

(Article)
Too close and too far
Roan D. Plotz,
James Grecian,
Graham I. H. Kerley,
Wayne L. Linklater
Keywords: Observer disturbance, Radio-telemetry, Radio-triangualtion, Home range, Diceros bicornis minor, Hluhluwe-iMfolozi Park, Rhinoceros, Conservation management