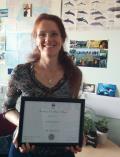 Dr Sonja Heinrich

Senior Lecturer & Director of Postgraduate Teaching
Departmental duties
Director of Postgraduate Teaching
Chair, Postgraduate Teaching Committee
Module organiser:
BL5210 - Principles of marine mammal biology
BL5104 - Conservation & management of marine mammals
BL5124 & BL4301 - Predator ecology in polar regions (Antarctic field trip)
Contributing to BL5310 (Marine Biodiversity & Ecosystem Function), BL5304 (Ecosystem-based Management of Marine Systems), BL4258 (Foraging in Marine Mammals)
St Andrews Teaching Excellence Award 2016
Research Interests:
Marine predator ecology - abundance, distribution & habitat use, species interactions, conservation of vulnerable species, polar regions,
Research students@ St Andrews
Phd student (2010-2015): Marina Costa (jointly with Prof Hammond), Sympatric ecology of delphinids in the Egyptian Red Sea.
MSc(Res) (2019-2020): Grant Ellis, Habitat use of Hector's dolphins off Kaikoura, New Zealand
MSc (taught) - 2-4 students per year
Research Projects:
Chiloe Small Cetacean Project (PI)
Conservation ecology and population assessments of small cetaceans in southern Chile (e.g. PI for abundance & collaborator for Chilean dolphin bycatch assessment project))
Sympatric ecology of Lagenorhynchus/Cephalorhynchus dolphins (PI)
Habitat use & abundance of coastal dolphins in the Falkland Islands (collaborator with SAERI)
Using platform of opportunity data to investigate distribution and ecology of Antarctic marine top predators (co-PI with Dr Lars Boehme)
Professional Representation:
Member: IUCN Cetacean Specialist Group and Cetacean Red List Authority.
Research Overview:
sympatric ecology, conservation biology of marine mammals,
Data could not be retrieved from PURE at this time. (research-outputs/persons)