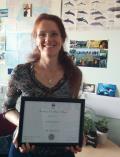 Dr Sonja Heinrich

Senior Lecturer (education-focussed) & Director of Postgraduate Teaching
Departmental duties
Director of Postgraduate Teaching
Chair, Postgraduate Teaching Committee
Module organiser:
BL5210 - Principles of marine mammal biology
BL5104 - Conservation & management of marine mammals
BL5124 & BL4301 - Predator ecology in polar regions (Antarctic field trip)
Contributing to BL5310 (Marine Biodiversity & Ecosystem Function), BL5304 (Ecosystem-based Management of Marine Systems), BL4258 (Foraging in Marine Mammals)
St Andrews Teaching Excellence Award 2016
PhD student (graduated June 2015): Marina Costa (jointly with Prof Hammond), Project: Sympatric ecology of delphinids in the Egyptian Red Sea.
Research Interests:
Marine mammal ecology - distribution & habitat use, species interactions, conservation of vulnerable species, polar regions,
Research Project:
Chiloe Small Cetacean Project, southern Chile
Research Overview:
sympatric ecology, conservation biology of marine mammals,
Recent publications
8  (of 8 published available) for sh52. (source: University of St Andrews PURE)
Please click title of any item for full details.
2017 
(1/8)
(Other contribution)
Whales
Philip Steven Hammond,
Sonja Heinrich,
Sascha Kate Hooker,
Peter Lloyd Tyack
2010 
(8)
Journal of the Acoustical Society of America

vol.128 pp.563-566

(Article)
2002
Australian Mammalogy

vol.24 pp.97-106

(Article)
2002
Australian Mammalogy

vol.24 pp.107-116

(Article)