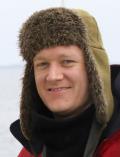 Dr Paul Wensveen

Visiting Scholar
I'm a marine ecologist and acoustician working as a Postdoctoral Researcher at the Faculty of Life and Environmental Sciences, University of Iceland. I'm also a Visiting Scholar with Prof Patrick Miller at the University of St Andrews.
Research interests: Effects of noise on wildlife, Animal behaviour and movement, Biologging and biotelemetry, Acoustic ecology, Quantitative ecology, and Sensory biology
Research ongoing: Behavioural effects of naval sonar on northern bottlenose and sperm whales and Ecological monitoring through passive acoustics of marine mammals and songbirds in Iceland.
Research Overview:
Recent publications
3  (of 3 published available) for pw234 with keyword
Cetaceans
clear keyword filter
. (source: University of St Andrews PURE)
Please click title of any item for full details.
2016 
(12)
Proceedings of Meetings on Acoustics

vol.27 

(Review article)
From physiology to policy
Natacha Aguilar de Soto,
Sascha Kate Hooker,
Saana Isojunno,
Mark Johnson,
Patrick Miller,
Peter Lloyd Tyack,
Paul Wensveen,
Carl Robert Donovan,
Catriona M Harris,
Danielle Harris,
Laura Helen Marshall,
Cornelia Sabrina Oedekoven,
Rocio Prieto,
Len Thomas
2016 
(29/12)
Marine Ecology Progress Series

vol.562 pp.211-220

(Article)
Naval sonar disrupts foraging behaviour in humpback whales
Lise D. Sivle,
Paul Wensveen,
Petter Kvadsheim,
Frans-Peter A. Lam,
Fleur Visser,
Charlotte Cure,
Catriona M Harris,
Peter Lloyd Tyack,
Patrick Miller
Keywords: Humpback whale, Megaptera novaeangliae, Naval sonar, Behavioral response, Lung feeding
2015 
(5)
Marine Environmental Research

vol.106 pp.68-81

(Article)
How effectively do horizontal and vertical response strategies of long-finned pilot whales reduce sound exposure from naval sonar?
Paul Wensveen,
Alexander M von Benda-Beckmann,
Michael A Ainslie,
Frans-Peter A Lam,
Petter H Kvadsheim,
Peter Lloyd Tyack,
Patrick Miller
Keywords: Cetaceans, Disturbance, Behaviour, Environmental impact, Noise, Risk assessment, Individual-based models, Sonar