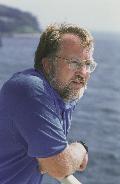 Prof Peter Tyack

Professor
Research Overview:
I am interested in the evolution of vocal learning in mammals and what effects this has on social behavior, especially mediating indvidual-specific relationships. My lab primarily studies cetaceans in the field, and we have developed new methods to sample behavior continuously from individuals. I am also concerned about the effects of anthropogenic sound on wildlife, and have studied effects of sounds such as naval sonar and airguns used for seismic survey on cetaceans. 
12 (of 12 published available) for plt with keyword General clear keyword filter. (source: University of St Andrews PURE)
Please click title of any item for full details
Diving behavior and fine-scale kinematics of free-ranging Risso's dolphins foraging in shallow and deep-water habitats
Patricia Arranz Alonso,
Kelly Benoit-Bird,
Ari S. Friedlaender,
Elliot L. Hazen,
Jeremy A. Goldbogen,
Alison K. Stimpert,
Stacy Lynn De Ruiter,
John Calambokidis,
Brandon Southall,
Andreas Fahlman,
Peter Lloyd Tyack
Frontiers in Ecology and Evolution
2019 vol.7
Understanding the population consequences of disturbance
Enrico Pirotta,
Daniel P. Costa,
Erica Fleishman,
Scott D. Kraus,
David Lusseau,
David Moretti,
Leslie Frances New,
Robert Schilling Schick,
Lisa K. Schwarz,
Samantha E. Simmons,
Len Thomas,
Peter Lloyd Tyack,
Michael J. Weise,
Randall S. Wells,
John Harwood
Ecology and Evolution
vol.Early View
Severity of expert-identified behavioural responses of humpback whale, minke whale, and northern bottlenose whale to naval sonar
Lise D. Sivle,
Petter H. Kvadsheim,
Charlotte Cure,
Saana Isojunno,
Paul Wensveen,
Frans-Peter A. Lam,
Fleur Visser,
Lars Kleivane,
Peter Lloyd Tyack,
Catriona M Harris,
Patrick Miller
Aquatic Mammals
2015 vol.41 pp.469-502
The evolutionary roots of creativity
Geraint A. Wiggins,
Peter Lloyd Tyack,
Constance Scharff,
Martin Rohrmeier
Philosophical Transactions of the Royal Society. B, Biological Sciences
2015 vol.370
Dose-response relationships for the onset of avoidance of sonar by free-ranging killer whales
Patrick Miller,
Ricardo Nuno Antunes,
Paul Wensveen,
Filipa Isabel Pereira Samarra,
Ana Catarina De Carvalho Alves,
Peter Lloyd Tyack,
Petter H. Kvadsheim,
Lars Kleivane,
Frans-Peter A. Lam,
Michael A. Ainslie,
Len Thomas
Journal of the Acoustical Society of America
2014 vol.135 pp.975-993
Using short-term measures of behaviour to estimate long-term fitness of southern elephant seals.
Leslie Frances New,
James Clark,
Daniel Costa,
Erica Fleishman,
Mark Hindell,
Tin Klanjšček,
David Lusseau,
Scott Kraus,
Clive McMahon,
Patrick Robinson,
Robert Schilling Schick,
Lisa Schwartz,
Samantha Simmons,
Len Thomas,
Peter Lloyd Tyack,
John Harwood
Marine Ecology Progress Series
2014 vol.496 pp.99-108