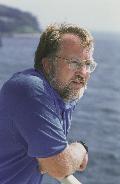 Prof Peter Tyack

Professor
Research Overview:
I am interested in the evolution of vocal learning in mammals and what effects this has on social behavior, especially mediating indvidual-specific relationships. My lab primarily studies cetaceans in the field, and we have developed new methods to sample behavior continuously from individuals. I am also concerned about the effects of anthropogenic sound on wildlife, and have studied effects of sounds such as naval sonar and airguns used for seismic survey on cetaceans. 
Data could not be retrieved from PURE at this time. (research-outputs/persons)
If there is a "source:research@st-andrews" link shown above, that should take you directly to a page with more information about this person. Otherwise, provided they are likely to be involved in research, you might wish to try searching for them from the
researchers page
on the main portal.