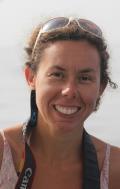 Dr Patricia Arranz Alonso

Research Fellow
As a Master's student at the University of Las Palmas I led the first taxonomic studies of ichthyoplankton in the island of El Hierro, Canaries. Soon after I enrolled into a PhD program at the University of La Laguna studying the foraging ecology and habitat selection by Blainville's beaked whales. From an integrative perspective, I used these results for the scientific design of a marine protected area for cetaceans in the Canary Islands.
I am currently working at Peter Tyack's Lab on the Southern California Behavioral Response Study. My analysis primarily focuses on quantifying the foraging and diving behavior of free-ranging Risso's dolphins (Grampus griseus).
Research Overview:
Recent publications
1  (of 1 published available) for paa4 with keyword
Biosonar
clear keyword filter
. (source: University of St Andrews PURE)
Please click title of any item for full details.
2016 
(21/9)
Journal of Experimental Biology

vol.219 pp.2898-2907

(Article)
Discrimination of fast click series produced by tagged Risso's dolphins (Grampus griseus) for echolocation or communication
Patricia Arranz Alonso,
Stacy Lynn De Ruiter,
Alison Stimpert,
Ari Friedlaender,
Jeremy Goldbogen,
Fleur Visser,
John Calambokidis,
Brandon Southall,
Peter Lloyd Tyack
Keywords: Biosonar, Pulsed sound, Buzz, Burst pulse, Jerk, Foraging behavior