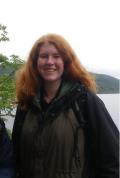 Dr Kelly Robinson

Associate Lecturer in Animal Behaviour and Evolution
Current Position:
I am an associate lecturer of animal behaviour and evolution teaching undergraduate modules for the School of Biology. I also am conducting research on neuropeptide hormones and their role in social behaviour, mother-infant dynamics and energy balance.
My research interests include:
Hormonal impacts on individual behaviour and physiology.
Maternal and social behaviour.
The physiology of energetics and how this links to individual behaviour and survival.
Particular interest in the neuropeptide oxytocin, which much of my current research centers around.
Please visit my research website for more information about myself and my work: https://kellyrobinsonscience.wordpress.com/
Research Overview:
13 (of 13 /dk/atira/pure/researchoutput/status/published available) for kjr33. (source: University of St Andrews PURE)
Please click title of any item for full details